FAQ: Mitsubishi Store Clarksville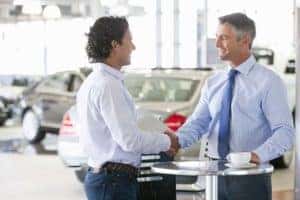 Our mission at Mitsubishi Store Clarksville is ensuring that our customers leave happy and satisfied with their new vehicles. Our staff is eager to answer all of your questions from financing to service and to help you get started on the car buying process. If you can't find the answer to one of our most frequently asked questions below, please call us at (812) 725-7193 and we'll be more than happy to assist you.
Buying a New (or Pre-Owned) Mitsubishi Car
Q: Why is test driving a car important?
A: Although our showroom of new Mitsubishi cars contains some great looking vehicles, a test drive will determine which model is right for you. Getting behind the wheel of a Mitsubishi Mirage or a Mitsubishi Outlander/Sport will give you a feel for vehicle performance and driveability. Plus, you can determine your own comfort and adjust the vehicle to your own standards.
Q: What is the difference between used and certified pre-owned?
A:. Our pre-owned Mitsubishi vehicles come from a wide range of years, makes and models. Certified pre-owned vehicles have undergone an extensive multipoint inspection, tend to be lightly used newer models, and come with manufacturer's warranty and CarFax ™ Vehicle History Report.
Service & Parts
Q: How important is car maintenance?
A: Maintaining a regular maintenance schedule for your car is important for keeping it running over a long period of time. Our Mitsubishi service center recommends scheduling regular maintenance appointments for your car.
Q: How do I know when I need an oil change?
A: Our service center recommends changing your vehicle's oil every three months or 3,000 to 6,000 miles. Check out our website for monthly service specials!
Finance
Q: How do I find out what my trade-in is worth?
A: Our Mitsubishi finance team can help you determine your current vehicle value, and you can use our Trade-In Evaluator tool for a rough estimate.
Q:  Can I buy a car with no credit?
A: Whether you have good credit, bad credit, or no credit, the financing team at Mitsubishi Store Clarksville will work with you on developing a purchase plan for a new Mitsubishi vehicle.
General
Q: Are you open on Sunday?
A: Mitsubishi Store Clarksville is closed on Sunday. However, we are open from 9:00 am to 8:00 pm Monday through Thursday; 9:00 am to 7:00 pm on Friday; and 9:00 am to 6:00 pm on Saturdays.
Q: Why should I choose your dealership?
A: We're a family-owned Mitsubishi dealership located in Clarksville, IN.